San Bernardino Assault and Battery Lawyer
Experienced Criminal Defense Counsel & Personalized Attention Serving San Bernardino County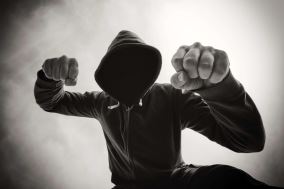 In California, assault and battery are two separate criminal offenses, but due to their nature, they may be charged together. Assault is described as an attempt of violence toward another person, and the battery may be described as an act of violence or unwanted contact. Depending on the circumstances surrounding assault and battery, these offenses may be charged as misdemeanors or felonies.
As a San Bernardino criminal attorney, Dennis Kuntz represents those who have been accused of these and other violent criminal offenses. He understands how California Penal Code defines assault and battery and has a full understanding of what defenses may be considered valid. Combined with his knowledge of case law, Mr. Kuntz can build creative and strong defenses for assault and battery.
To learn more about our firm and how we can help, call (909) 200-4045. We offer a free case evaluation for assault and battery charges.
Viable Defenses to Assault & Battery Charges in San Bernardino County, California

In building a defense against assault and battery, it is important to understand how these offenses are defined by law:
Simple assault is defined in California Penal Code §240 as an attempt to use force or violence on another person. This is a misdemeanor offense.
Simple battery is defined in California Penal Code §242 as any willful and unlawful use of force or violence on another person. The actual injury need not have occurred for battery charges to apply, as battery also includes any type of offensive contact. This is a misdemeanor offense.
Aggravated assault and/or battery charges may apply if a defendant is accused of causing serious bodily injury, if the victim was a police officer or other public servant, or if a deadly weapon was used. Aggravated assault and battery are felony offenses.
In challenging assault and battery charges, a valid defense may be that the attempt or act of violence was actually lawful. Acting in defense of oneself or to protect another person, for example, may create a valid self-defense argument. By investigating the circumstances surrounding your criminal defense case and charges, San Bernardino County criminal defense lawyer Dennis Kuntz can determine how to best approach your defense.
Contact our firm today at (909) 200-4045.