San Bernardino Burglary Attorney
Providing the Skilled Legal Representation for Burglary Charges You Need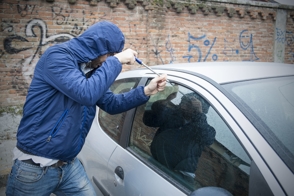 Burglary is one of the most common crimes in the state of California and, depending on the circumstances of the crime, the penalties one might face will vary greatly. If you are facing burglary charges, no matter how minor they might seem, it is wise to hire a burglary defense lawyer who is experienced in handling such cases as soon as possible to protect your rights and your freedom. At the Law Office of Dennis Kuntz, our San Bernardino burglary attorney is dedicated to representing the interests of his clients to ensure they receive the best possible outcome for their case.
---
For the aggressive legal representation you deserve, contact our office today at (909) 200-4045. We offer free consultations!
---
Types of Burglary Charges in California
In California, state laws establish two types of burglary charges, first and second-degree. First-degree burglary in California is defined as the burglary of an inhabited dwelling, such as a house, vessel, or other property that is designed for habitation at the time of the crime, even if no one was occupying the property at the time.
State law also includes properties that have been abandoned due to a natural disaster or another emergency as "currently inhabited" properties. A burglary that does not qualify as California burglary in the first-degree will proceed as a second-degree burglary case. Examples of second-degree burglary cases include burglaries committed at business or store.
Penalties for burglary charges in California can include:
First-degree burglary California: First-degree burglary is a felony that is punishable by up to 6 years in county jail, and/or a $1,000 fine, probation, and restitution to the victims.
Second-degree burglary California: This is considered a misdemeanor and is punishable by up to a year in county jail, and or a fine, and probation. Depending on the nature of the crime, a second-degree burglary might also be treated as a felony, however, in which case it would be punishable by up to 3 years in county jail, and/or a fine, probation, and restitution to the victims.
Burglary with explosives: When a burglary involves explosives, it is treated as a felony, punishable by up to 7 years in state prison, a fine, probation or parole, and restitution to the victims.
Possible Defenses for Burglary in California
If you are facing burglary charges, there is a range of possible defenses that might be applied to your situation, depending on the details of your case. Some of the defenses a San Bernardino burglary defense lawyer might consider for your case include:
Permission to enter
Lack of intent
The building in question was not a "structure" under the legal definition
Actual innocence
You were coerced into committing the crime
What Is Burglary in the First Degree?
In California, burglary in the first degree is the entering of any residential structure with the intent to commit a crime. Burglary of the first degree is always considered a felony. The penalties of first-degree burglary isclude a state prison sentence of two to six years.
Possession of Burglar's Tools
In a burglary case, one of the most important factors is intent. Possession of burglary tools, such as the following are generally treated as misdemeanors:
Picklock tools
Screwdrivers
Crowbars
However, an individual can be charged with burglary if he or she is in possession of these tools with the intention of using them for that purpose. Of course, these tools can also be used for non-criminal activities, so it falls upon the prosecution to demonstrate if there was an intent to commit this crime because he or she was in possession of the tools to do so.
What are the Elements of Burglary in California?
The elements required to prove a burglary by a prosecutor in California are the defendant entering a building, entering a room, or locked vehicle with the intent to commit felony or theft once inside the building or property. If the defendant burglarizes a home, hotel, or where people live they can be charged with first-degree burglary. If the defendant burglarizes a commercial building, they will face second-degree burglary.
Is Burglary Considered a Violent Crime?
Burglary is not always considered a violent crime in California. Residential burglary, or burglary of any inhabited structure, is considered a violent crime since it involves a structure where a person lives. This type of burglary is considered first-degree burglary and is charged as a felony.
Burglary of any commercial structure, automobile, or any other structure is not considered a violent crime.
Protect Your Rights and Fight Burglary Charges
If you have been accused of burglary in San Bernardino, it is crucial to have a skilled and experienced burglary attorney on your side. At the Law Office of Dennis Kuntz, we understand the serious consequences that come with a burglary conviction, including hefty fines and potential jail time. Our dedicated team of legal professionals is committed to protecting your rights and providing you with aggressive defense against burglary charges.
Why choose us as your burglary defense lawyer:
Extensive experience in handling burglary cases in San Bernardino County
In-depth knowledge of California burglary laws and legal procedures
Proven track record of successful outcomes for our clients
Personalized attention and strategic defense tailored to your unique case
Strong negotiation skills to potentially reduce charges or penalties
Thorough investigation and gathering of evidence to build a solid defense
Effective courtroom representation and advocacy on your behalf
Don't face burglary charges alone. Contact the Law Office of Dennis Kuntz today to schedule a consultation and discuss your legal options.
Aggressive Burglary Defense Lawyer Serving the San Bernardino County
If you are currently facing burglary charges, you need to act quickly to protect your rights and freedom. At the Law Office of Dennis Kuntz, our burglary attorney in San Bernardino understands what it takes to build a strong defense and will provide the level of representation you need to make sure you achieve a favorable outcome for your case. Do not leave your future up to chance. Secure the representation you need and deserve during this difficult time.
---
Ready to speak with a knowledgeable burglary attorney? Call our office at (909) 200-4045 to schedule a free initial case evaluation today!
---
Leave your worries behind

Jennifer

If you ever find yourself needing a , hard working, loyal, compassionate lawyer, I definitely recommend Dennis.

Former Client

My experience with Mr. Kuntz was a breath of fresh air, and I would definitely recommend hiring a dedicated, genuine attorney like him.

Riley
Free Consultations Available
Contact Our Office
Whether you have questions or you're ready to get started, our legal team is ready to help. Complete our form below or call us at (909) 200-4045.